NOTHINGILIKEMORE
22nd October 2017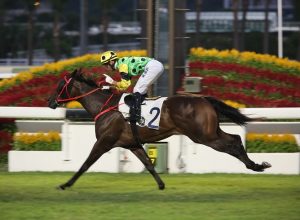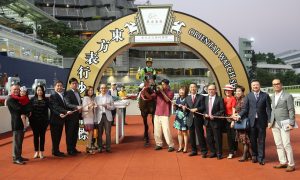 Rising Price Bloodstock star Nothingilikemore came back as he went out on Sunday at Sha Tin, winning his first race of the new season hard held and leaving nobody in any doubt that he is the next big thing in Hong Kong racing.
"It's nearly impossible to keep the lid on the hype. Expectations will need to be managed but it goes with the job – and I wish I was used to it," Size said after a two-length win that could easily have been four lengths and kept Nothingilikemore's unbeaten record after five starts.
It wasn't just the fans and Nothingilikemore's owners who were hyped up, even the professionals caught the bug. On a day when most of Hong Kong's big Group One horses were out on show, one or two rival jockeys were heard to say they were happy that Nothingilikemore isn't headed for the Hong Kong Mile or he might make sick work of that too.
Like Size, champion jockey Joao Moreira was trying to manage the boom on the four-year-old after he had just won his way out of Class Two – still a fair way from the peak of the mountain – but the Brazilian wasn't doing a great job of it.
"No, he isn't the best horse in Hong Kong. At least not yet," Moreira said. "The way he went today proved what I thought he was. He is showing all the signs that he could be a really top horse one day."
Nothingilikemore's six month rest from racing had some negative effects – he was so fresh and full of himself before the race that he smashed a railing on his walk out to the track.
Moreira said he settled down when he got to the starting gates but even in the race, Nothingilikemore wanted to go faster most of the way.
"Eventually he relaxed though and it was good to get this one out of the way after the long break," Size said. "He's headed towards the Classic Mile at the end of January and I haven't planned a path for him yet but he will only have one or two races between now and then."