HOT KING PRAWN & CONTE
5th November 2017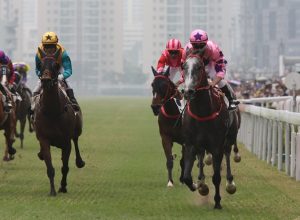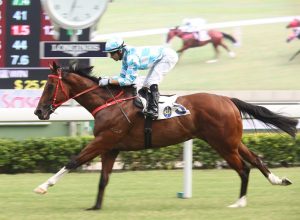 Exciting times for Price Bloodstock on Sunday at Sha Tin, as two highly-promising gallopers from the John Size yard started their season in the right way, with hollow victories to Hot King Prawn and Conte.
Grey three-year-old sprinter, Hot King Prawn faced a tougher task this time than he had in two very soft victories against his own age group last season, taking on older horses down the straight 1,000m in Class 3.
However, the result was the same, with jockey Zac Purton shaking up Hot King Prawn to get the job done and make it three from three and the jockey gave the youngster a good report card.
"It was a good effort today," Purton said. "They weren't going to hand up the lead to him and they tried to hold him out, but he's always shown good pace and he did again today. It was nice through the first part and then, when we got down to the 600metres, he grabbed hold of the bit and wanted to get on with it. I pressed the button early so I could get to the outside fence and give him something to follow and he sustained a long run, so it was a good effort."
So far, Hot King Prawn has won his races down the straight 1,000m course but Size said he would have no concerns about switching to a turn with the grey.
"Those races he has been in suited – right time and place – and the program will determine where he goes next as well, but I don't think he's only a 1,000m horse," Size said. "If there's the right 1,200m race then maybe I'd give him a spin around a bend."
Big Starcraft four-year-old Conte stepped out over 1,200m or his winning racetrack debut and had the outside barrier to deal with but both Size and champion jockey Joao Moreira said they had seen that as no disadvantage.
"He's a big-striding, momentum horse and you don't want to break his stride, so it was easier to just use his own speed from outside and keep running rather than getting behind horses," said Moreira. "What I like is that he turned the corner and I gave him a tap on the shoulder and he accelerated. He feels more like a miler so his best is still all ahead. "He has everything you'd want – he has a good temper, he's got size and he's got Size and, when he strides, he covers so much ground the others need two strides to his one."
Size said the gelding looked to have a good future after doing what only above average horses do, winning at the first time of asking.
"Conte did as much as any horse can do going to the races the first time," said Size. "He did everything right and got the result as well."